Outdoor wedding ceremonies have become so trendy in 2021 and 2022. Instead of urban vibe, couples prefer to spend their special day in the nature, mountains or Old town with a rich cultural heritage. We completely agree with you: it is more impressive.
Here are they: the best locations for the hassle-free outdoor weddings in Georgia!
Tbilisi outdoor locations


Tbilisi Sea territory
Tbilisi Sea is a manmade water reservoir in the city outskirts, it looks like a beautiful and calm lake. It is mostly known because of the giant monument Chronicles of Georgia. But that's not a wedding venue. Ideal location for a lake wedding by Tbilisi sea is on the other side, where there is a flat place overlooking the water, with trees on the background.

Pros: it's beautiful any season, even in winter.
Cons: it's a public space and could be crowded, especially in the evening time.


Tbilisi Botanical Garden
Botanical Garden is huge. When we mention an outdoor ceremony venue, we mean a wooden-covered little pier near entrance, with has a great view to the mountain, and historical part of Tbilisi, with pieces of ancient Narikala fortress.

This area is the only one where it's allowed to install a wedding arch. The rent of the pier is a paid service (200 GEL) that shall be paid to the administration of the Botanical Garden, together with the entrance tickets.

If the ceremony does not contain any décor (arch), then it can be conducted anywhere in the Garden premises, without extra charge for rent of space. An intimate ceremony for two looks great in front of the waterfall in the heart of Botanical Garden, or under the big Christmas tree, walking barefoot on the lush green grass.

Pros: big variety of locations for photoshooting… if you are willing to walk up and down and cover them.
Cons: in winter Botanical Garden is a lot less green and sometimes even looks sad. But it's great from April to October.


Wedding venues in Mtskheta Jvary monastery
Picturesque view from Jvary monastery attracts many couples to this location. During each season any wedding photographer has been there at least 10-15 times. Jvary is indeed great, but these who is looking for the intimacy and privacy, will prefer less crowded place.
Pros: beautiful location in 50 mins drive from Tbilisi city center.

A hill with a tree and ancient closed church
In around 10 km from Mtskheta there is a lovely hill with a closed church. We choose this location for a wedding ceremony, because it has an amazing view to the mountains, is spacious enough for any arch décor plus has several points for the photoshooting with the different background. It has not yet become a popular tourist destination, that's why it's not crowded at all. Though, it might be more popular in future, because since 2020 there is a special sign on the road, showing direction to the church. By the way, XII century church named after Saint George, is currently closed, but sometimes it is opened by the priest, and Georgians visit it.

Pros: perfect location for an intimate wedding ceremony with a view.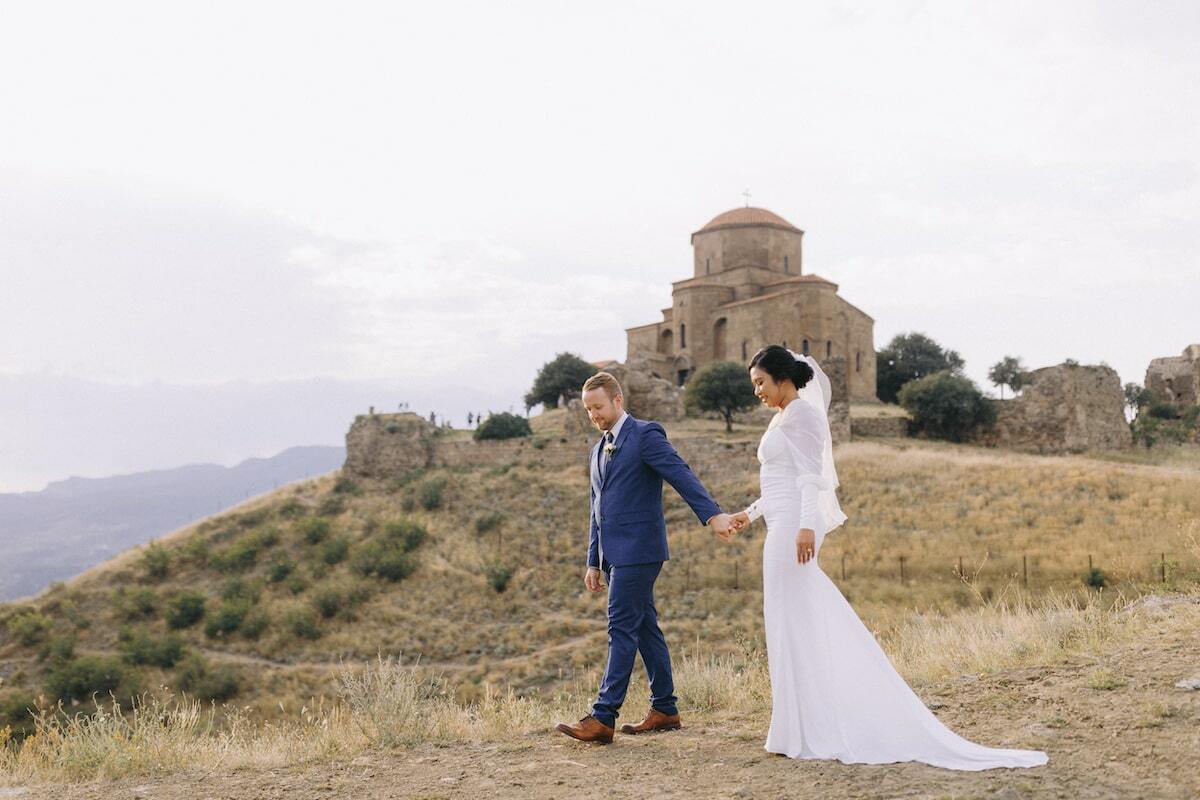 Mountain wedding in Georgia: Gudauri
Gudauri is a ski resort located on the height of more than 2000 meters above the sea level, in 2 hours drive from Tbilisi. There are no trees there, in summer it's only lush green grass, and in winter – snow. Snowy season here starts in the beginning of December and lasts till first week of April. Great location for a wedding with an impressive mountains view!
Pros: easily accessible even in winter, unlike Kazbegi, road to where can be blocked in winter.


Kazbegi
Kazbegi is located in the same direction, but a bit further than Gudauri. Kazbegi is in 3 hours drive from Tbilisi, a little town located at the bottom of the high mountains. Unlike Gudauri, it also has a forest and looks more diverse. Breathtaking view to the famous Kazbeg mount can be explored from Rooms hotel terrace… and from plenty other locations, including our venue for the ceremony.

Pros: absolutely stunning pictures.
Cons: 3 hours drive distance from Tbilisi (and 3 hours back!). Besides that, quite often in winter the road to Kazbegi can be closed for a day or two. It is impossible to predict, and can only be checked on the very same day, by calling to the hotline of the road police of Georgia.